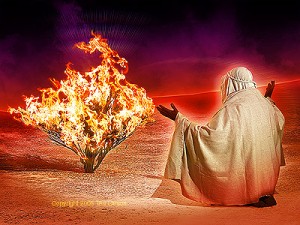 Word of Encouragement- Week Ending March 10th, 2012
Series: The Questions God Asks Us
"Who Has Made Man's Mouth…Is It Not I, the LORD?" – Exodus 4:11
ESV Exodus 4:11-12: Then the LORD said to him, "Who has made man's mouth? Who makes him mute, or deaf, or seeing, or blind? Is it not I, the LORD? Now therefore go, and I will be with your mouth and teach you what you shall speak."
 
At some time in your life, you have felt that dreaded nervousness that crawls up within you when you must perform the important music recital you have practiced intensely and often, or you must prove your skills to your teammates and the crowd when all seem to be depending upon you to hit the ball when the bases are loaded, or you have been asked to give a presentation and a speech before other people. "Speak before other people!!"
At these times, we ask internally, thinking to ourselves: "What will they think?" "How will I do?" "Will I make a fool of myself?" "Will I forget everything I have learned?"
Our confidence weakens and wanes and we are filled with flittering tummy butterflies that reveal our anxieties and fears. The reason we get this way ultimately is because we are focused more on our self rather than upon the Living God. We get too focused merely on our gifts rather than the Gifter-Giver really. And that is why we are so anxious and fearful.
Now understand there is a natural tendency to feel a bit apprehensive and nervous about an important situation where you have worked hard and desire to do your best, but often we have an unnatural, sinful tendency to let our feelings overwhelm us because we lack focus, and because we lack focus, we lack confidence and trust in God. Let us remember that we were never meant as humans to do anything apart from God (we were created by God to be "with Him"). We were all created dependent, and we must remain dependent, trusting, creatures, who constantly remember that God is always with us as He has promised to be!
Moses was like us. One of the beautiful truths of Holy Scripture is that the people in God's story are all fallen, sinful creatures like us, who make the same mistakes, fall into the same sinful traps, and are frightened, anxious and scared just like us (1 Cor. 10:11-13).
In our passage from Exodus 4, God was on the verge of delivering His people from over four hundred years of slavery. He had heard the cries of His people, and He had remembered His covenant. It was time for God to act powerfully on behalf of the people (Exodus 2:24-25). God called Moses at the burning bush and revealed His name to him (Exodus 3:10-14).
Yet Moses was apprehensive to do the will of God. Moses thought of his own weaknesses, rather than God's great strength. Moses focused more on himself rather than upon the living God who was with him. Moses feared that he was too ineloquent to speak in God's name, and not to mention, he knew intimately the challenge of marching right up into Pharaoh's palace to tell this great king that God had called to free the people from slavery.
But soberly and pointedly God asks Moses: "Who has made man's mouth?" The question is to get Moses to think of God rather than himself. If God wants to deliver, God will deliver according to His power, because of His loving-kindness and mercy! God asks the question about His own power of creation in making man's mouth, to assure Moses that He has plenty of strength and power to do what Moses might be unable to do.
This was the heart of matter, wasn't it? God was faithfully present with Moses, and had clearly made His glory and power known to Moses, but Moses' focus was on the challenging situation and his own abilities, and not on the God who was powerfully present with Moses to show Himself faithful.
Moses' concern was on his own speech and ability to speak that was aggravated and accentuated in the light of a challenging situation. You can understand Moses' predicament. Rarely will we be called as God's representative and ambassador to face a mighty dictator with God's Word. Yet daily we are called to represent the LORD in our lives and deeds, and it can be just as intimidating sometimes, especially if it is a powerful person, or a person we want to impress.
Going face to face with Pharaoh, the 'KING of Egypt' in all his power and glory was extremely intimidating we must admit. But Moses was essentially comparing his powers and abilities with those of Pharaoh and his court. God was calling Moses to draw confidence and trust in Him alone. While Moses was intimidated and concerned about these things, he lost sight of God.
Isn't Moses a bit like you and me? Like many of us, at times we are too focused on self to do any real good and to bring powerful change in this world?! As Christians, we are to learn to focus on God's power through us as we make ourselves available to Him in Christ. The truth of Scripture is NOT "God helps those who help themselves" but rather "God helps those who have no hope and help in themselves"! My father used to say when I would say "I can't do such and such" that "Can't never could." I have come to realize that this may be true at times, but overall it is false. I think I would say now (as an older man):
Not "can't never could" but "Can't often does a lot of good, when 'can'ts' could' is focused on God's good."
Like Moses, we also have intimidating situations, although they differ in degrees, we nevertheless get anxious and fearful and focus on ourselves. In our lives, the question that God asked Moses could be put to us like this: "Who has given you the gifts you have?" "Who has given you your present job?" "Who has called you to teach your family biblical truth?" "Who has given to you resources that you can learn grow in godly wisdom?" "Who has called you to pray for hardened and unbelieving friends and relatives?" Who has given you the very words of God in Christ to make known to the world in your daily witness?"
"Who has given to you your present position and calling to fulfill it for God no matter how great the opposition, and no matter how incapable and weak that you feel you can do it?" Who has called you and not someone else to do what you do for God's glory?"
All of us when we encounter what we perceive a difficult situation try to take a quick inventory of our own gifts and abilities, and then we tend to either go forward confidently, or move backward cowardly based on our estimation of these abilities. We often compare ourselves with others, and we try to finitely evaluate the work of others with our own. Rarely do we see God in this first. But we must. God has given us what we need for all situations; can we trust Him? Do you trust God? Here is the truth: You are weak; others do have greater gifts; you will make mistakes and you will fail; but the point is not what you have to offer God, but the immeasurably great power that God offers to you to do His will!! (Eph. 1:18-23).
It is not about comparing gifts with others, as much as understanding that if God has called you to a task to glorify His name, no matter how incompetent you may be, no matter how many others could probably do it better, God will be with you, and will bring His appointed and ordained results out of you because of His power, and through your weak, yet willing obedience.
It is a dangerous thing to try and finitely, and with limited perspective evaluate our own gifts and work for God, even the Apostle Paul did not try evaluating his work but trusted God (see 1 Cor. 4:3-7).
Be honest with God: What has God called you to do that you know he has called you to do this very day, and yet you are being hindered by your own perceived weaknesses, or you're evaluating your own gifts with the gifts of others thinking they could do better, or you're looking to much at the opposition? God calls you right now to behold His power and glory, and His promise to be with you!
If God wants to use man to deliver others, then He will do so. If God gives us our mouths (like Moses) and the power of speech, or he gives us any other gifts to try our best, he will also give us the grace to accomplish what He calls us to accomplish. Even in this situation with Moses, God graciously uses Moses powerfully, but grants him the help of another partner and helper (his brother Aaron), as Moses focuses on God and not himself, and believes and trusts God to do what God has promised to do.
God is instructing Moses in 'Humility 101'; Moses' success will be because of God's power. God doesn't need our strengths, our gifts, or our confidence in SELF. God wants us to trust Him, and that is all. As Moses would later learn, God wants us to
"Fear not, stand firm, and see the salvation of the LORD, which he will work for you today…" (Exodus 14:13).
Here is what we are to learn daily:
"My grace is sufficient for you, for my power is made perfect in weakness." Therefore I will boast all the more gladly of my weaknesses, so that the power of Christ may rest upon me. For the sake of Christ, then, I am content with weaknesses, insults, hardships, persecutions, and calamities. For when I am weak, then I am strong." – 2 Corinthians 12:9-10
We sadly strive as Christians sometimes to become confident in ourselves just like the world. We should strive for excellence, and to work hard for God's glory, and to seek to gain more competence in our learning and in the using of our gifts and abilities, there is no doubt. But if any change is going to come; if there is going to be any real redemption and rescue from sin, it will be because we put our confidence and hope in God and His power alone. God alone has the power to change both us and other through us.
God redeemed Israel from slavery, and he used a weak and sinful and anxiously frightened man named Moses who had learned to focus on God alone. Moses was God's instrument, and Moses became more like His LORD as he learned to trust Him by focusing on His Word and the great and wonderful promise that God was always with Him- -no matter what situation! Yet God redeemed—God's power was revealed and made known that we could boast in God alone!
In the fullness of the times, one greater than Moses came to deliver God's people! God united Himself permanently to our human nature to speak words of grace and power through humility and meekness (Matt. 11:25-30). Jesus was not someone who was outwardly attractive and gifted (Isaiah 53:2-5); Jesus' miracles were all done clearly because of the power of God with Him to show that Jesus was truly God in the flesh; the miracles and the great acts of Jesus were not to bring glory to Himself, but to point to the fact that God was truly with Him, and that salvation was found in Jesus Christ alone, God in the flesh for us, who is also with us.
Jesus Christ performed all of God's will on earth with His glory veiled so that we would know that God is with us too, and that we could remember that if God is with us he is for us, and if he is for us, there is no one who can be against us! (Romans 8:31). Jesus Christ teaches us that God works through meekness and weakness to achieve His powerful goals of salvation and mercy to all who will believe. So we should seek to be like Jesus in all we do, humbling depending upon God alone, and doing it for God alone, boasting in God alone, with our focus on God alone (read Philippians 2:1-11).
The greatest act that Jesus performed for His people was one He had to fully trust God to do. Jesus had to drink the full cup of God's wrath and punishment for our sins down to the dregs. The Bible teaches:
ESV Mark 14:34-36: And he said to them, "My soul is very sorrowful, even to death. Remain here and watch." And going a little farther, he fell on the ground and prayed that, if it were possible, the hour might pass from him. And he said, "Abba, Father, all things are possible for you. Remove this cup from me. Yet not what I will, but what you will."
Jesus knew that in Himself, He couldn't perform what He was called to do, yet HE NEVER LOST CONFIDENCE IN GOD! He knew that "all things are possible with God" (Mark 14:36), and that God would work through weakness to bring His own powerful will to pass: the redemption of God's dearly loved people, you and me!
In a great act of weakness, losing all of His gifts and powers, and losing the dear presence of His Father that He had experienced from before the foundation of the world in the bosom of His Beloved Father, Jesus confronted not merely Pharaoh, but the devil and death itself, submitting Himself to the Father's will in weakness, so that our sins would be judged on Jesus rather than on us.
What is beautiful about Jesus' mouth is His cry of dereliction for us: 'My God, My God, why have you forsaken me?' In Jesus' weakness, in His death for our sins, we should see our only hope of redemption. Jesus, who knew no sin, who never- -ever committed one sin in thought, word, or deed, took all of the sins of His people upon Himself, and was crushed by the Father for our iniquities (Isaiah 53:10), so that we could have His perfect righteousness and know that God loves us and is with us for all eternity!
Now, we should hear, even in our greatest weakness as believers redeemed by Jesus, God's command to us in Christ: "Go, and I will be with you…"; God's promise to all believers in Christ is: "I will be with your mouth and teach you what you shall speak" (Exodus 4:12).
In Christ, God makes all of us His mouthpieces to testify of the goodness of God in Christ; to testify of how Christ has set us free from sin and slavery; to testify that our hope and full confidence is in God's power and grace in Jesus Christ and not in ourselves; to testify that all the perfect righteousness that God requires, He provides for all who believe in Christ alone apart from works; to testify that He is God, and God alone, and we are His servants who must depend upon Him alone!
…And this we are to do weak in ourselves, but confident in Christ, knowing that when we're weak we are incredibly strong!
Let us serve Him. Ask yourself in the next situation that causes you anxiety and fear:
"Who has made man's mouth?" Then go and give Him your best confidence and trust in Jesus as He reveals His glory and goodness to you because HE IS WITH YOU!
In Christ's love,
Pastor Biggs