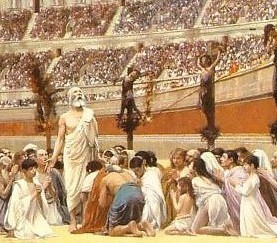 Word of Encouragement- The Church of Smyrna- "Tried and True"
"He who has an ear, let him hear what the Spirit says to the churches"- Revelation 2:7, 11, 17, 29; 3:6, 13, 22
"…We make it our aim to please him. For we must all appear before the judgment seat of Christ, so that each one may receive what is due for what he has done in the body, whether good or evil. Therefore, knowing the fear of the Lord, we persuade others. But what we are is known to God…"- 2 Corinthians 5:9b-11a
Dear Beloved of the LORD at KCPC: I am writing short messages on the seven churches for our Word of Encouragement so that we might better assess where we are spiritually as a congregation, show us areas that need to be realigned with God's Word, and how we might more effectively and sincerely make it our aim to please the Lord Jesus Christ!
If you would like to read the introduction to this short series, you may read here: Word of Encouragement
What are our strengths and weaknesses as a congregation? How can we ask God to better search and know us corporately? How are we doing at KCPC as a visible manifestation of Christ's Kingdom on earth? Are we loving God and others as we did when we were first saved and gathered as Christ's flock?
We will focus today on Jesus' message to the Church at Smyrna.
It is important to remind ourselves that these seven congregations of the Revelation were real historical churches at the time that John the Apostle wrote his Revelation of Jesus Christ.  However, we want to understand that they are also symbolic of the entire church age between Jesus' first and second coming.
This means that what Jesus says to the churches, we need to consider soberly for ourselves.  Jesus is still speaking to us (Hebrews 12:25).  Jesus is particularly speaking to His people in these letters as a corporate body and congregation of confessional Christians, and not merely as individuals. This is why it is good to use these letters to be assessed by Christ as we seek to grow in him as a body.
We should understand that through the reading and preaching of the Word in public worship, we at KCPC are also recipients of this important letter.  Jesus is addressing us, too!
Dear Ketoctin Covenant Presbyterian Church…Dear Congregation of the Lord Jesus Christ, in Purcellville, Virginia:
Jesus' letter to the Church at Smyrna reminds us of the challenging truth that a church can be considered faithful by the Lord Jesus and yet suffer.
Suffering and tribulation are part of being faithful to God's Kingdom as the Church Militant in his world.
The truth revealed here is: An outwardly rich and successful church (numerically as in attendance, and/or programs provided) does not necessarily mean it is a faithful church; an outwardly "poor" and "unsuccessful" church (in the eyes of the world) that suffers for their faith does not necessarily mean that it is an unfaithful church.
"To the angel of the church in Smyrna" (v. 8a).  Smyrna is one of only two of the seven churches that receive only encouragement from the Lord Jesus.
Where was Smyrna? It was located in Asia Minor about thirty-five miles north of Ephesus.  The Church Fathers, particularly Irenaeus wrote that the Apostle Paul had stayed in Smyrna on his missionary travels.  Church history also reminds us of the great Pastor Polycarp who died a martyr's death at Smyrna in the second century.  Pastor Polycarp had learned from, and been friends with the Apostle John.
The letter is from our Lord Jesus, particularly describing Himself thus: "The first and the last, who died and came to life (v. 8b; cf. 1:17-18).  Jesus is the Great God in the flesh and yet his knows of this suffering congregation of saints.  Jesus is the first and the last, yet he is also the Compassionate God who speaks to his people.  Jesus is the God who is Transcendent, yet so close. Jesus is the one who suffered unto death and gave His life for us, so that we would willingly our lives and be faithful unto death for Him!
Jesus has nothing to rebuke this church about, but he has a reminder-warning to them about what they are to expect as partners in the "tribulation and the kingdom and the patient endurance that are in Jesus" (1:9). Listen to the kindness and compassion of the Lord Jesus:
"I know your tribulation…" (v. 9a)
"I know your poverty…(but you are rich)" (v. 9a; cf. James 2:5; for "rich in good works"- 1 Tim. 6:18)
Notice that no matter how overlooked and unappreciated and threatened by the world the Church at Smyrna was, Jesus compassionately sympathizes with them in their weakness as their great High Priest who lives to intercede for them at the Throne of Grace (Heb. 4:14-18).
The City of Smyrna was a very rich one.  In contrast, the Church of Smyrna did not live up outwardly to that rich and luxurious reputation; the church was considered poor in the eyes of the world.  Smyrna Church had no big buildings or lofty cathedrals, they were probably not very large in numerical size, and probably did not have a lot of exciting congregations to "wow" the crowds- –yet they were commended by Christ for their riches and success in faithfulness!
The Christ who was rich and made himself poor for our sakes, tells the Church of Smyrna that from God's objective perspective (regardless of what folks on earth think) that the Church at Smyrna is rich in Gospel truth and eternal blessings! 
In our finite and limited judgment here on earth we are not good judges of whether a congregation is rich or impoverished, successful or unsuccessful.  We can however draw some implication-inference-conclusions from what Jesus says here to the Church at Smyrna.
Lots of congregations of Christ that seem rich and successful may not be.  Christ says later in his letter to the Church at Laodicea:
ESV Revelation 3:17 For you say, I am rich, I have prospered, and I need nothing, not realizing that you are wretched, pitiable, poor, blind, and naked.
What makes a congregation rich? It is **NOT** money, power, fame, a radio show, and lots of people flocking to the worship necessarily.  According to Jesus what makes a congregation rich is how much they are rich in good works, that is, congregations show forth their knowledge of the Gospel of Jesus in how they live before God and the world.
Remember the way our LORD defined true riches:
 
ESV Luke 12:15, 21: And he said to them, "Take care, and be on your guard against all covetousness, for one's life does not consist in the abundance of his possessions…So is the one who lays up treasure for himself and is not rich toward God."
The congregations who are rich in God's Gospel, and are heirs to the riches in heaven can be small in number and yet many times will be in a world of sin and misery (although there are exceptions).
It does not matter a hill of beans how large a congregation is, numerically speaking.  Among ministers and even members of church congregations there can oftentimes be a kind of boasting about how big one's building is, how large and loud the organ is; how many folks worship on any given Sunday, and how great and charismatic the pastor is.
All of these perks can be good (if they do not distract from the mission), but if the church is without the true gospel and the "richness in good works" it is a failure according to Jesus (as we will see in Jesus' address to other congregations in Asia Minor).
We should be careful when we see a faithful, Gospel-preaching congregations dwindle down according to God's mysterious providence, that we do not think them as poor, when they may be rich.
Again, we are poor judges of what constitutes a truly rich congregation (1 Corinthians 4:3-4, 7)!  But you can know them by their Gospel fruit (cf. Matt. 7).
Jesus says: "I know the slander of those who say that they are Jews and are not, but are a synagogue of Satan…" (v. 9b; 3:9-10; John 8:31-59; Philippians 3:3; Romans 2:25-29).  Apparently Non-Christian Jews were claiming to the Roman government that the Church at Smyrna was not a Jewish sect, but was a non-Jewish group with the implication that they were an "unauthorized" congregation of saints (Jewish sects were protected by the Roman Empire at this time in history).  This would have caused trouble for the confessing members of the Smyrna Church because if they were not a Jewish sect then they had to offer idolatrous worship to the emperor.  If they did not offer this idol worship, then they would have been persecuted and most likely killed.
In light of this, the Risen-Ascended Christ tells the Church of Smyrna that they indeed are the true Jews and because of this, they will suffer persecution.  Jesus wants the church to understand herself not only as the True Jews by faith, but also that their citizenship is in heaven.  Persecution of the congregation will be provoked by false Jews and the Kingdom of Rome.
We don't want to miss that here is the Risen-Ascended Christ's assessment of **unbelieving** Jews.  This is consistent with what he preached in his earthly ministry and what was clearly interpreted by the Apostle Paul.
This is in no way Anti-Semitic as we might call it; this is the LORD of history evaluating what a true Jew is, and is not (cf. Romans 2:28-29).  Those synagogues in the 1st century who did not receive the Gospel revealed themselves as those who did not belong to Christ or his Church regardless of their outward success in adherents or numbers of worshippers; by rejecting Christ they were rejecting their right to be called children of Abraham (see John 8:31-59).
There were those who were Jewish ethnically who also became True Jews through faith in Christ.  Although they would have been rejected by the Synagogue (of Satan for their profession of faith), they were members of the Church of Smyrna.
In fact, it was those who were Jewish ethnically who were opposing and oppressing many of Christ's followers.  The Church was being persecuted in Christ (Acts 9).  Remember that pagans and Rome persecuted the early church, but also the unbelieving Jewish synagogues as we learn in the Book of the Acts of the Apostles.
Jesus says to the Apostle Paul who was of the synagogue of Satan before his conversion-regeneration, those who persecute Christ's Church are those who persecute Christ; and those who persecute Christ are not true Jews.  A True Jew is a "Spirit-filled' Christian, one united to Jesus Christ by faith whether Jew or Gentile by birth!
Jesus says: "Do not fear what you are about to suffer…" (v. 10a).
God grants mercy to many congregations of the world and allows us to live without persecution often in our lives.  However, the Church of Jesus Christ is to expect nothing less than persecution and not to be surprised when it comes along; persecution is allowed by God to make us more like Jesus Christ and it is not to surprise us!
Beloved, do not be surprised at the fiery trial when it comes upon you to test you, as though something strange were happening to you. But rejoice insofar as you share Christ's sufferings, that you may also rejoice and be glad when his glory is revealed. If you are insulted for the name of Christ, you are blessed, because the Spirit of glory1 and of God rests upon you. – 1 Peter 4:12-14
We may not understand the suffering and persecution in the United States as well as other countries and nations in this world.  We may have plenty of prosperity and time on our hands to interpret the Book of Revelation as wholly a future, speculative "riddle" to be unlocked by our interpretive genius. 🙂 (That's not completely unfair, is it?)
But as I have tried to make clear in our introduction.  The Book of Revelation is about hope in suffering in this present age.  The book is not for fanciful self-centered interpretation, but given to the Church as God's Word to encourage perseverance in persecution and suffering!
Let's talk a bit more globally about the True Church of Jesus and how those who suffer could benefit from Christ's letter here (and hopefully if as Americans we find ourselves one day similar circumstances we will be strong enough through Word and Sacrament to face the persecution onslaught):
The World Evangelical Alliance estimates that 200 million Christians live in societies today where they are threatened with imprisonment, torturing and martyrdom.  Many Christians in Muslim countries undergo daily persecution and it is reported that Communist North Korea is perhaps the most dangerous place on earth to confess Christ openly and own a copy of the Scriptures.  In North Korea Christians are brutalized in prisons for their confession and profession of Jesus Christ.
In 2006 in Eritrea on the Continent of Africa (Northeast Africa), it was reported that almost 2000 Christians were imprisoned for their faith.  On June 6th 2009, Pastor Hua who faithfully preaches the gospel in Beijing, China was taken as he was changing trains and taken to a hotel and beaten by officials.  They reportedly said to him: "I'm going to strangle you and I'd like to see whether you can still preach the gospel" (officials also threatened to arrest his wife).  The Chinese "Domestic Security Protection Squad" is set up to suppress the spread of the Gospel.
One of the first messages of the Persecuted Church that I have read is, even before presenting the news: "Pray for us!"
We must seek to pray for these persecuted Christians at all times (Eph. 6:18), and we must seek to prepare ourselves for possible persecution like this in the future.  Here is one way we could pray (from the Book of Common Prayer):
 
Prayer: "Grant that we, who now remember these before thee, may likewise so bear witness unto thee in this world, that we may receive with them the crown of glory that fadeth not away; through Jesus Christ our Lord, who with thee and the Holy Spirit liveth and reigneth, one God, for ever and ever. Amen." – taken from The Book of Common Prayer
In order to have knowledge of the Church's persecution, and to pray specifically, you can read the updates from our missionaries in the Orthodox Presbyterian Church on our website; you can Google "Christian Persecution" or "The Persecuted Church" or go to "The Voice of the Martyrs" to learn more about the "Persecuted Smyrnans" throughout the world.  We may not all agree fully doctrinally and confessionally on every point with every persecuted Christian throughout the world, but we must admit that those who are truly preaching the Gospel are strong warriors for Jesus who are standing up to unbelief by the giving of their own lives.
Prediction of suffering: "Behold, the devil is about to throw some of you into prison…" (v. 10b).  It is important to note that the devil, the Adversary and Enemy of God and His people is the force behind all of the church's persecution.  This is why Jesus tells us to overcome those who are the Church's enemies with love rather than vengeance.
The devil is God's instrument and sometimes God allows the devil to be used to bring about His sovereign purposes- -but we are called to love our enemies as ourselves (see Romans 12:12-21).  Listen to how the Apostle Paul teaches the persecuted Smyrnan Church in his Epistle to the Romans:
 
Beloved, never avenge yourselves, but leave it1 to the wrath of God, for it is written, "Vengeance is mine, I will repay, says the Lord." To the contrary, "if your enemy is hungry, feed him; if he is thirsty, give him something to drink; for by so doing you will heap burning coals on his head." Do not be overcome by evil, but overcome evil with good. – Romans 12:12-21
 
Knowing that good comes out of our suffering persecution, we are to overthrow the power of the devil, and overcome evil by doing loving good in God's Name.  We do not retaliate or seek vengeance to repay our enemies in God's Name, but we seek to love, bless, serve, and witness God's power through our suffering and persecution!
Suffering is part of our union with Christ; Suffering is not outside God's sovereignty and purposes for His Church Militant.
What is God's purpose in our suffering?: "…That you may be tested, and for ten days will have tribulation (v. 10b; cf. 1:9; 2:2-3; Matthew 24:7-9; John 16:33).  What makes a true and rich church of Jesus Christ? From this passage it is clear:
1) A congregation who professes the true God and Jesus Christ as the only hope of salvation; 2) A congregation who understands suffering as part of God's revealed will and purpose for His church to make them holy like Christ; and 3) A congregation who loves Christ more than their own lives and would be willing to die for Christ.
Notice the specific "ten days" of tribulation.  Now this does not mean literally 10 days but is taken from the Book of Daniel (as much of John's imagery and numbers are taken from Daniel and the Old Testament prophets).  Remember the 10 days that Daniel and his friends underwent the test of not partaking of the king's idolatrous food.
The 10 days are symbolic of a sovereign time set by God that would be limited in duration, and that could indeed by accomplished by God's grace.  The "testing" will only be temporal; the "testing will be "manageable" and "doable" by God's grace to them as they walk by faith and not by sight- -just as Daniel and his friends did as exiles and strangers in an evil world.
As Jesus says to those who love not their lives unto death (2:10):
"Be faithful unto death, and I will give you the crown of life…" (v. 10c; Matthew 10:21-22; Rev. 12:11; James 1:12)
"He who has an ear, let him hear what the Spirit says to the churches" (v. 11a)
"The one who conquers will not be hurt by the second death" (v. 11b; "second death": Rev. 20:6, 14; 21:8)
How does the persecuted and suffering Church conquer- -even through death?
And they have conquered him by the blood of the Lamb and by the word of their testimony, for they loved not their lives even unto death.- Revelation 12:10
Remember Who the letter is from: "The first and the last, who died and came to life (v. 8b; cf. 1:17-18).  Jesus is the Great God in the flesh who laid down his life to die for the sins of His believing Church.  Jesus was raised from the dead and lives to rule and reign and watch over the Church at God's right hand!
In Christ we suffer; in Christ we die; in Christ we live!
Death cannot hold us- -where O death is your sting? Where O death is your victory?- -We will be raised with Christ to experience eternal blessedness in the presence of God.
Confessing Christians will not experience the second death of eternal torment and hell.  A short endurance and life of suffering is not worth comparing with the grace to be revealed to the overcoming Church Triumphant:
 
ESV Romans 8:18 For I consider that the sufferings of this present time are not worth comparing with the glory that is to be revealed to us.
ESV Revelation 20:6 Blessed and holy is the one who shares in the first resurrection! Over such the second death has no power, but they will be priests of God and of Christ, and they will reign with him…
A short unbelieving life of denying Christ is not worth comparing to the curse to be revealed at the end of the ages.  As the Apostle John later shows to us in the Book of Revelation concerning the second death:
ESV Revelation 20:14 Then Death and Hades were thrown into the lake of fire. This is the second death, the lake of fire.
 
ESV Revelation 21:8 But as for the cowardly, the faithless, the detestable, as for murderers, the sexually immoral, sorcerers, idolaters, and all liars, their portion will be in the lake that burns with fire and sulfur, which is the second death."
 
The Book of Revelation is to encourage the godly in Christ to continue to accept suffering and persecution for the Name of Jesus, while looking forward to a great eternity of bliss and peace in the presence of God!
ESV 1 Corinthians 2:9 But, as it is written, "What no eye has seen, nor ear heard, nor the heart of man imagined, what God has prepared for those who love him"
The Book of Revelation is to discourage the ungodly who deny Christ to be warned now for their causing suffering and persecution to the Church for Jesus' Name.
The ungodly are to understand that the second death of eternal torment and hell await if they do not repent, join the throng of suffering martyrs, confess Jesus Christ before God and man as King of kings and Lord of lords!
Christian: Do not fear but hope in the LORD as one who will conquer in reliance upon God's grace.  No matter what suffering and/or persecution may come, let us learn to say with our Old and New Covenant brethren:
ESV Psalm 56:11 in God I trust; I shall not be afraid. What can man do to me?
 
ESV Psalm 118:6 The LORD is on my side; I will not fear. What can man do to me?
 
ESV Hebrews 13:6 So we can confidently say, "The Lord is my helper; I will not fear; what can man do to me?"
In light of God's grace, let us be careful that we do not compromise God's truth and live apathetically in this world.
May we at KCPC seek to witness the truth of God's Gospel in every aspect of our lives and experience the suffering and tribulation that God allows by His grace so that we can be a "rich" and "successful" congregation in every way before God's face.
May these devotional studies of assessment from Jesus using the letters to the seven churches of the Revelation cause us to better align ourselves with His truth, and encourage us all to make it our aim to please Jesus who died for us while we were yet sinners (Rom. 5:6-8).
May we live daily as a congregation before the face of Christ and so before the Judgment Seat of Christ. When we all arrive at our destination and we stand as the congregation KCPC before Christ's Judgment, may these short devotions have better prepared us, so that we can stand confident and encouraged in the Lord Jesus' presence.
"He who has an ear, let him hear what the Spirit says to the churches"- Jesus Christ
 
In Jesus' love,
Pastor Charles
09/23/11