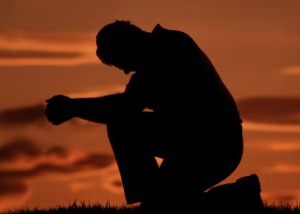 "Fall Down at the Savior's Feet" – Luke 8:40-56
What makes us fall down? The weight of something can make us fall down. We fall down and stumble sometimes because we are careless and frail. What makes us fall down before God?
Our need.
His great power and glory.
The weight of our need for Jesus, and the weight of our realization of His power and glory, and the weight of His kind and merciful willingness to take time to heal us. This makes us fall down at his feet.
Let us worship Jesus. Right now, fall down, and seek Him who calls out to you, and promises to you all that you will ever need in Him. Fall down at Jesus' feet and find what you need in Jesus, where you can get nowhere else. Go to Him and worship
In Luke 8:40-56, two people fall down at Jesus' feet because they have great need of Jesus and His healing power. One person who falls down in Jesus' presence is Jairus, an important person in his day, a synagogue ruler. Another person who fell down in Jesus' presence was just a nameless common woman described as "a woman who had a discharge of blood for twelve years" (Luke 8:43). Read Luke 8:40-56.
Jairus, the important man, and the nameless common woman both had desperate needs, and it didn't matter the social or economical position that they held in this world. When death came calling, both of them knew that only Jesus could bring healing and help.
And death came calling. In Jairus' home, Jairus' dear and **only** daughter was dying. His only daughter (about twelve years of age) was dying; he was losing what was most important to him in this world; the little girl would no longer bless him with her smiles, giggles, hugs, and wretched death would steal her presence from his home forever! (Luke 8:42).
Jairus went to Jesus because all of his importance, all of his religious and social standing, did not matter at this moment. He was a frail man in the face of death, with absolutely no power to save the dear one who meant the most to him in the whole world! He goes to Jesus. Amen! Go to Jesus right now for help.
Jairus goes to Jesus, and "falling at Jesus' feet, he implored him to come to his house…" (8:41). Jairus implored Jesus. The word "implore" is from the verb parakaleo the same verb used of the Holy Spirit as being one called along side. The term here is being used to show that this important man was begging Jesus with all of his might to do the impossible: reverse death's awful threat upon his daughter's life! Jairus is praying fervently. Jairus prays by the Spirit for his daughter to be healed.
In the nameless common woman's life, she had spent all she had in this world (and it was probably very little) to get well. We are told that "she had spent all her living on physicians" (8:43). No one could help her; no one (not a soul could help her) (8:44). All of the professional advice, wisdom, and medical help she sought could not save her from this slow discharge of blood that would eventually kill her. Death was creeping up on her and robbing her of life.
This woman, with all of the faith she could muster rushes through the crowds to Jesus and touches the fringe of Jesus' garment. Don't let anything hinder you from seeking the healing that only Jesus can give. Go and find at least his outer garment to touch. Get as near as you can!!
Just the outer edges of Jesus' presence will heal sinners! Don't you see, go to Jesus, touch whatever you can, reach as far as you're able, with whatever faith you can muster. You may have a little faith, and little hope to get to Jesus, but you're reaching for a great and powerful CHRIST!
Power went out from Jesus when this dear weak and nameless woman touched Him. We are told "she came up behind HIM and touched the fringe of His garment and immediately her discharge of blood ceased" (8:44) – -and she was immediately healed (8:45-48).
In the face of Jesus Christ, the nightmare of death is over. Jesus brings life.
A little faith, perhaps a very small hope that anyone could ever help her, but this nameless common woman took hold of a GREAT CHRIST. And when this woman felt the weight of God's glory in Jesus Christ, and the power of his LIFE, she came "trembling and falling down before him" (8:47).
She fell down to worship Christ, to honor the only hope for those dying! We find in Christ the only one who can help us in our time of need!
And her faith in Jesus healed and saved her (8:48). Although she is nameless and common, she is a "daughter" to the living God. Jesus says to her: "Daughter, your faith has made you well; go in peace." The woman's faith in Jesus showed her to be a true daughter of the Living God, heirs to the life that is found in Jesus. She goes in peace, having found her hope of life in Christ.
But while Jesus was healing this nameless common woman, Jairus' daugther had grown worse in the meantime, and news came to Jesus that Jairus' daughter has died. They came with the news: "Your daughter is dead; do not trouble the Teacher anymore" (8:49).
This is an example of a faithless people, who do not understand that when Jesus is present to faith there is no threat of death. "Let's not trouble Jesus with things that he cannot do," they say. We also think this way sometimes functionally even as Christians. Whereas the nameless common woman was at least willing to give Jesus a try with the little faith she had, these folks are unwilling to even ask?!
Such prayerless and hopeless people we can be sometimes—even when Jesus promises that He is with us!
But Jesus is gracious to even the prayerless and hopeless, and He speaks Gospel words of comfort into Jairus' life; Jairus (and all in his home) heard life-giving, Holy-Spiritual empowered words come forth from the lips of the Savior. Jesus told Jairus confidently as the Lord of Life and Death:
"Do not fear; only believe, and she will be well."
 
We often will listen to fear and look to circumstances before we look to Christ and hear His words of promise to us!
 
What confidence believers can have when facing Jesus Christ. When we look to Jesus and hear His Gospel-drenched, gracious words of power and kindness, all of our fears can be relieved. Our faith, while it may be small, takes hold of a GREAT CHRIST, who can do things that we can't even conceive or imagination- -so great is His grace and power (Eph. 3:20-21).
And this causes us to fall down beneath the weight of his majesty and power, and we worship Him, too. Worship Him now. Thank Jesus for calming all of your fears; for being your Savior and promising to never leave you nor forsake you. Turn now from what you fear the most, bask in His goodness, mercy and kind presence (Heb. 4:14-16), the go back to face that which seemed so insurmountable, and find grace and comfort.
Jesus reaches Jairus' home and there are many mourners present. Jesus brings words of comfort for those who have ears to hear. While there is the sound of weeping and mourning, Jesus speaks peaceful words of grace: "Do not weep, for she is not dead but sleeping" (8:52).
Even in the midst of sadness, Jesus' words can bring hope.
But the folks at Jairus' home laughed at him (8:53- How did they go so quickly from mourning and weeping to laughing?!!). Do you laugh at God's Word, or do you simply believe what He says to you? Do you live functionally like these people laughing inwardly, sneering, seeking to lean on your own strength, while laughing at others who take God's words seriously?
Do you laugh rather than fall at Jesus' feet? Behold the glory of God:
In the face of Jesus Christ we behold that the nightmare of death is over (see also John 11:40).
Jesus doesn't rebuke the people for laughing; he doesn't let the folks with unbelief bother him in the least bit. No, he goes to the one who needs Him. And he will find you who are in need too…
Jesus goes to the child. We are told: "But taking her by the hand he called, saying 'Child, arise'" (8:54). Jesus is so gentle and merciful. He takes the dead little girl, the **only** daughter of Jairus, the precious daughter of Jairus, by the hand, and she speaks words of power and life to her.
But in the face of Jesus, death is only sleeping.
Jesus is the Resurrection and the Life. Death cannot abide in His powerful presence, and this is a reason for us to fall down before Him. Jesus Christ is the Lord of Life!
Jesus speaks to the child a command; Jesus' words of command have power even over the dead. Jesus commands the child to arise (8:54). We are told then that "And her spirit returned, and she got up at once. And he directed that something should be given her to eat" (8:55).
Death had not only separated Jairus from the love and presence of his beloved only daughter, but death had separated Jairus' daughters' spirit from her body.
Death is an horrific and evil intruder in God's creation. Death is not the way it should have been; we must never say that death is just a part of life. Death is because of the sin of man against God, and the just penalty of God for disobedience to His Word.
God does not leave man in fear of death (Heb. 2:14-18). God becomes a man, and becomes subject to the weakness and sin and misery of this life characterized by death, and even undergoes death Himself on behalf of those who believe. God becomes man and dies under the curse of death so that we might be forgiven of our many sins against God, so that we might be reconciled to God and never separted from Him, so that we might be healed of death, and so that we might never be separated from our loved ones again!
This is the hope of those who believe in Christ. Christ has taken the death penalty for our sins. He paid the infinite price of eternal death in our place on the cross. Jesus was forsaken by His father, separated from communion with God, and his body and spirit were separated in death for all who believe. Jesus Christ has been in the tomb , under the power of death, and He has risen victorious as the King of kings and Lord of Life!
In Jesus' resurrection, we see our hope of sins forgiven, death abolished, and a life with God and our loved ones for all eternity. This is the hope we anticipate as Christians (Revelation 21:1-7). God will dwell with us forever, and we will live with Him and all our loved ones never to be separated by death.  We rejoice that when Christ returns the final enemy will be defeated which is death itself. There will be no more death soon and very soon!  "The last enemy to be destroyed [at Christ's second coming] is death" (1 Corinthians 15:26).
Death is a problem that only Jesus Christ can fix by His power and grace. Only Jesus can bring together and unify eternally loved ones who are separated by death, and spirits separated from bodies. And death becomes sleep in Jesus' presence. What a picture here of Jesus' care of all who believe.
Jesus finds His beloved people in our weakness and death, and he comes to us, takes us gently and mercifully by our hands, and speaks life to us. We arise and find healing from our sins in His presence and we behold His face.
When we face death as believers, Jesus may heal us as he did the nameless and common woman. But usually when we face death, we actually die as Jairus' daughter; we close our eyes as in sleep. For believers in Jesus, death is just like a sleep; a short nap. This is the important point.
Like Jairus' daughter dying, our dying is very similar. Jesus reaches down into death and draws up back into life. Jesus reaches through into this dimension characterized by sin and misery and death, and brings life to us by taking us permanently into His wonderful and blessed presence.
And we live forever beholding His face! When we die, or when our loved ones die in the Lord, we can be confident that although we are separated from them for a season, they are not separated from Jesus Christ! Although their spirits and bodies be separated and await the union of both on the resurrection on the Last Day, nevertheless, they are not separated from the blissful presence of the Lord Jesus.
And they through death will stare and behold, like Jairus' daughter, into the glorious and merciful face of their precious Savior. And they will be fully healed because of His power. They will be rescued and saved from a world of sin and misery characterized by death.
This is our hope in Jesus Christ!
When we die, and when those we love die, let us be reminded and comforted of these truths. That death is like sleep in that we close our eyes from this world to open our eyes and to awake fully alive and well and healed staring and beholding the face of Jesus Christ.
When Jairus' daughter awoke from her death, you can imagine how she would have never forgotten Jesus' precious face. To remember that glorious face all the days of her life would have given her hope in the death she would die again. But the next time she would die, she would know that the same Jesus Christ who healed her once, would do it again- -but the next time for all eternity! This is written for us to know this and believe.
Don't forget this face. Don't forget the face of Jesus Christ. Once he has healed you, you will never see anything more beautiful and glorious again!
Behold the face of Jesus Christ in life and death.
Fall down and worship Him!
Encourage and comfort one another with these words of the Apostle Paul concerning death from 1 Thessalonians. The Apostle Paul teaches the doctrinal truth of what Luke's Gospel shows to us in the sleep of Jairus' daughter:
ESV 1 Thessalonians 4:13-18: But we do not want you to be uninformed, brothers, about those who are asleep, that you may not grieve as others do who have no hope. For since we believe that Jesus died and rose again, even so, through Jesus, God will bring with him those who have fallen asleep. For this we declare to you by a word from the Lord, that we who are alive, who are left until the coming of the Lord, will not precede those who have fallen asleep. For the Lord himself will descend from heaven with a cry of command, with the voice of an archangel, and with the sound of the trumpet of God. And the dead in Christ will rise first. Then we who are alive, who are left, will be caught up together with them in the clouds to meet the Lord in the air, and so we will always be with the Lord. Therefore encourage one another with these words.
Fall down and worship before Him!
Find life in Christ alone.
You and I need Him so desperately. Whether you're an important person or a nameless common person, fall down and find hope and healing in Christ alone.
In Christ's love,
Pastor Charles- "The Vicar" (I was affectionately known as 'the Vicar" to John Connor)
This Word of Encouragement is dedicated to my friend and brother John Curtis Connor who recently closed his eyes in this world, to open his eyes in the presence of the Lord Jesus. I am grateful for John's life, and hopeful in Christ for his death.